North's Workshop
is a massive Russian workshop located in the North Pole, ruled by 
North
.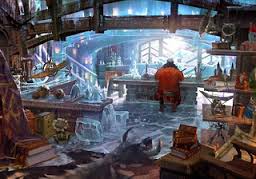 North lives in his workshop with his Elves and Yetis, making toys for Christmas. In the book, North tells MiM about creating a second Santoff Claussen which result with MiM liking the idea and approving it.
Landscape
Edit
The gigantic Russian Palace located in North Pole. It has a huge workshop were the Yetis and North work and design toys for the children of the world and huge room where the Globe of the World is located. It may also have multiple room for the Yetis, Elves, and the reindeer to stay and sleep. It also has an office were North makes his toy design from ice. And a base where the sleigh is keep with the reindeer. It also has top security as Jack Frost could never enter the palace.
The Globe Room
Edit
The Globe Room is a gigantic room located in the center of the workshop and the location were the Guardians gather to discuss important business about the children of Earth or Pitch. It also the location of the Guardian Stone and The Globe of Belief.
Ad blocker interference detected!
Wikia is a free-to-use site that makes money from advertising. We have a modified experience for viewers using ad blockers

Wikia is not accessible if you've made further modifications. Remove the custom ad blocker rule(s) and the page will load as expected.